Hours of Operation
M-Th: 8am – 9pm
Fri-Sat: 8am – 4pm
Sun: 11am –4 pm
Summer Hours-Sun: 8am-2pm
2019 Zone Team Championships Boys and Girls 16's
Welcome to the Boy's and Girls 16's Zone Team Championships. We welcome the 12 teams that will be competing this year: Carribean (1), Northern (2), Pacific Northwest (2), Middle States (3) and Texas (4) Section Teams. The Southlake Tennis Center is excited to be hosting the event again this year. The tournament is scheduled for Wednesday, June 24 to Monday, June 29.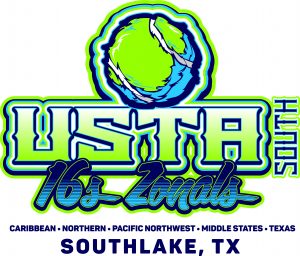 Schedule
Zonals is scheduled from Wednesday, July 24 to Monday, July 29. Players are expected to arrive no later than noon on Wednesday so that they can attend the mandatory Player Meeting that afternoon. Players should arrange to depart no earlier than 4 pm on Monday to allow time for the final singles matches to complete.
Wednesday, July 24

 
1:00-2:00 pm Player Check In
1:00-2:00 pm On-Site Alternate Check-In
2:00-3:00 pm Mandatory Player Meeting
3:00-3:30 pm Team Meetings and Team Pictures
4:30-6:30 pm Team Practices
5:30-7:30 pm Player Party at STC

Thursday, July 25-Sunday, July 28

8:00 am Matches start at STC (2)
8:30 am Matches start at WW and RTC (1)
11:30 am Matches start at STC (2)

Sunday, July 28

4:30 pm Final Round Doubles Matches at STC
3:30 pm Warm Up Courts no earlier than 3:30 pm

Monday, July 29

8:00 am  Final Round Singles Matches at STC
8:30 am  Final Round Singles Matches at WW and RTC
11:30 am Final Round Singles Matches for Teams 1-4
Awards Ceremony to follow Final Round matches
Transportation
Southlake Tennis Center is located approximately 15 miles west of DFW Airport. This is the most convenient airport for players. Dallas-Fort Worth is also serviced by Love Field, which is approximately 45 minutes from the host site. We will be playing at multiple sites, so teams will need access to transportation during the event.
Lodging
The host hotel and site of the Player Meetings is the Marriott Solana in Westlake, TX. This is a business hotel with on site tennis courts and a pool. It is located 5 minutes from the main site. Reservations can be made until either July 3 or until the block is sold out using this link.
The block will sell out, so it is important to make reservations as soon as possible. If you are unable to make reservations for the days you need, please contact the Tournament Director, Mia Gordon at td@southlaketennis.com
The hotel has transportation to and from the nearest airport, which is DFW. For more information please contact the hotel.
Match Schedules
There are 6 matches scheduled for each day.  Matches will be played at 3 different sites.  Two matches will play at Southlake Tennis Center at 8:00 am.  One match will play at 8:30 am at Richland Tennis Center and one match will play at Wagon Wheel Tennis Center.  Two matches will play at Southlake Tennis Center at 11:30 am, immediately following the 8:00 am matches.  All the matches are being played at full service public tennis centers with locker rooms, ice/water and viewing with shade.
Team Match Format
A team consists of 12 players per team, 6 boys and 6 girls. The players are seeded by their section and play singles in order of strength. Each match consists of 6 boys singles, 6 girls singles, 2 boys doubles, 2 girls doubles and 1 mixed doubles match. The match format for singles is 2 of 3 sets, regular scoring, with a 10 point match tiebreak in lieu of a third set. Doubles is one set, no-ad scoring. Each match counts as one point. In the event of a tie, a Super Match Tiebreak will be played by players selected by their coaches.
Tournament Format
Teams are randomly placed in 2 divisions, US Open and Wimbledon. There are 6 teams in each division. Teams will play a round robin against the other teams in their division, but they will not play every team. Teams from the same section may not play each other in the round robin. The winners of each division will play each other in the finals. The team that accrues the most points in round robin play wins their division. In the final round teams are matched with teams from the other division in order of finish.
Coaching
Each team will have a designated coach. This is the only person who can communicate with the players during match play. All communication regarding match sites, match times, line ups and scores will come from the coach. Players will meet their coaches during a team meeting which takes place immediately after the Players Meeting at the Marriott Solana. Most coaches will communicate with the players by text.
Team Parent
Each team will be asked to designate a team parent who will assist the coach. The team parent will be in charge of distributing balls for matches, and recording scores on the team scoresheet, since the coaches will be spending most of their time on court.
Tournament Trainer
A tournament trainer will be on site at Southlake Tennis Center starting at 7:00 am for pre-match assistance. The trainer will stay on site until 30 minutes after the last match has concluded to allow for post-match treatments.
Tournament Surface and Balls
The tournament will be played on hard courts. The official ball for boys/mixed doubles matches is Wilson Extra Duty. The official balls for girls matches is Wilson Regular Duty.
Tournament Preparation
Players need to prepare to play in the Texas heat. We are starting early and only playing morning matches to minimize heat related issues. Players should bring a large water jug filled with ice to their site. While each site will have access to ice/water, it is best to start off with full jugs of water. Not all sites have concessions, so teams should be prepared to bring coolers with sports drinks/snacks for recovery.
Players should consider bringing cooling towels/neckwear for use during changeovers. Some players have found using a "slushy bucket" styrofoam container with ice water and a towel to be helpful in extreme heat. None of the sites we play at provide towels, so players should be prepared to bring their own.
Each site will have some access to shade, but spectators who want to watch specific matches may want to bring an umbrella for protection from the sun. Not all sites have seating near every court, so spectators may want to bring portable seating.
Places to Eat
There are over 40 restaurants within 5 miles of STC.  For large groups we recommend:
BJ's Brewhouse
Cheesecake Factory
Brio
 
Popular Restaurants
These are the local restaurants that are close to the tennis center. 
American

Wildwood Grill
Modern Market (vegan options)
Tru-Fire Grill

Italian

Armends
Restaurante Mulino Italiano

Sushi/Japanese
Thai

Malai Kitchen (vegan options)
Thailicious

Chinese

Howard Wangs
Dragon House

Indian
Mexican

Manny's
Cristina's
Mi Cocina
Fuzzy's Tacos

Seafood

Bonefish Grill
Rockfish Grill

Mediterranean

Tazikis
Luna Grill (vegan options)
Zoe's Kitchen

Pizza
Breakfast
Fast Food

Jersey Mike's
Chik a Filet

 
 
Burgers

Shake Shake
Hopdoddies
Five Guys
Things To Do
Southlake Town Square
Grapevine Mills Mall
Main Event
Additional Services
Southlake Tennis Center
Bicentennial Park
450 W. Southlake Blvd.
Southlake, TX 76092 | map
Hours of Operation
M-Th: 8am – 9pm
Fri-Sat: 8am – 4pm
Sun: 11am –4 pm
Summer Hours-Sun: 8am-2pm
Members
Learn more about memberships at STC and register an account.
Use the link above to request an account be created for you. This generally takes 24-48 hours. Once your account has been created, you can register and pay for classes online.